Sugar free summer challenge
Did you hear about "Re-Think your Drink" yet?
Two weeks ago I was able to attend a "Soda Free Summer Training" sponsored by the "Re-Think your Drink" Campaign. This 2hr seminar was as informative as it was startling. We were taught hands on what it means to drink  small cans of soda here and there and between. Not only soda was highlighted in addition we came across all types of drinks which were high in added sugar – Beware!
Lemonade
Soda
Juice drinks
Energy drinks
Iced Tea
Sweetened Coffee drinks
As we learned the very simple formula which reveals the amount of teaspoons of sugar added to favorite drinks we were equipped with pocket calculators and jars of good old white granulated sugar. Team work was key. One by one we counted each teaspoon out loud as the piles in front of us grew bigger and bigger. Wow! We were shocked how much sugar really is in one of these little bottles. This is a great experiment to do with your children. We encourage you to try it. To calculate how many tsp of sugar are in your favorite drink use this easy formula:
Grams of sugar x serving size divided by 4
For example: A 20oz bottle of Coca Cola has 65g of sugar, serving size is 1 bottle:
65×1=65
65/4=16 1/4 tsp!!!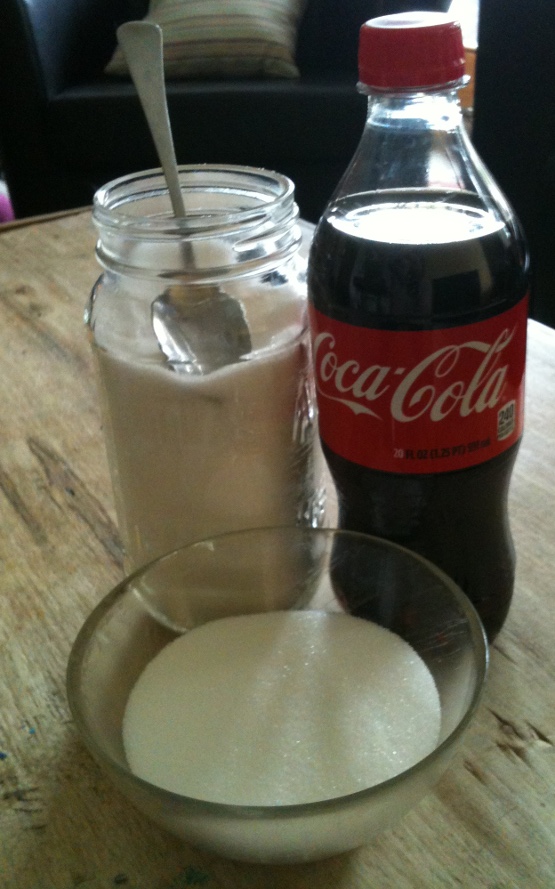 Truth be told nobody shares a 20oz bottle and most likely it will be drunk in one sitting and you might be thirsty for more.
Just to point out the significance of this I would like to end with this note: The American Heart Association  recommends to limit the total daily consumption of added sugar to 7tsp for women and 9tsp for men.
Want to receive our newsletter with great promotions, more deals and information? Sign up today!