Well Kiddos, let's go on a scavenger hunt!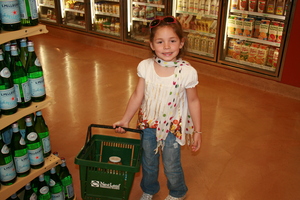 Happy and healthy shopper at our first class on 2/27 at New Leaf!
Little foodies on a mission…
"I want to look for healthy snacks!" Excitement was written on our little guests faces when they entered New Leaf in Half Moon Bay on February  27th. We had our first class set up, being enthusiastic to show our young food critics what to look for in a packaged snack, what to avoid and how to prepare your own delicious creation with simple, real foods.
5g or less fat , 140mg or less sodium, 6g or less sugar per serving size

Look for the non-GMO Project stamp or non-GMO alternatives

Buy organic and local if possible
Off they went equipped with little picture cards and a shopping basket to hunt down goodies. It only took a few minutes until the first "mini chefs for a day" came back with their loot. Now it was time to see how well they had listened to our introduction about healthy ingredients and nutrition facts. With a little help to get started, all of them were able to figure out what to look for on the nutrition facts label. Big eyes, open mouths all around when the kids realized how much sugar there really was in that favorite treat or simple cereal. Surprised and hungry from all the learning and scavenging the kids started getting creative with apples and cheese cubes. The kids poked a stick through the cheese to make a sail for the apple slice. Gadgets like an apple slicer and egg slicer were the highlights of the hands on fun and lots of busy little hands wanted to try it, build it and eat it! Pleased to see that the little gourmets were enjoying their work and coming up with their own creations – fruit kabobs were appearing, cocktail umbrellas decorated egg slices and cups were filled with banana slices, self mixed yogurt and sugar free cereal.


It was amazing to see how much interest and energy the kids showed in finding foods meeting the criteria and being active in styling their own snacks.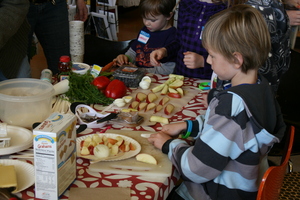 Favorite part of the class – food preparation!
Kids and parents alike enjoyed the snacks prepared. After the bellies had been filled our little foodies took matters into their on hands and went on another scavenger spree through New Leaf now equipped with all the necessary knowledge to be a watchful and healthy shopper. They came back showing us kefirs, crackers, gummy snacks and other favorites. The kids were completely astonished about how much hidden salt, sugar and fat was presented on the label and at the same time they came up with ideas about how to create a better and healthier snack. How these little people amazed us, we can't stress enough! "Well" Kiddos, you rock!
Well Kiddos advocates that parents are mindful about the health benefits real food can have for their child's life long eating habits and wellness.
News of the childhood obesity epidemic are alarming:
"1 in every two Latino children will become diabetic and 1 in every three Caucasian children."
We can make a difference:
Vote with your fork and send a message to manufactures of food by supporting the ones that have your child's health in mind.
Buy fresh and organic fruits and veggies
Join a CSA (local farms offer their crop for weekly purchase)
Support local community gardens
Stick to foods that list 5 or less ingredients that you can pronounce – Avoid "food like substances"
Know your veggies and fruit: 5 digits means organic
Check out the EWG Dirty Dozen List (http://www.foodnews.org/fulllist.php)
Inform yourself about non-gmo foods (non gmo project) http://www.nongmoproject.org/consumers/search-participating-products/
Buy organic or rBST free dairy products only
Meats: ask about non gmo feed; buy from a local meat producer; grass fed
Eggs: organic; ideally from a farmer
Please contact us if you would like to find out how to look for healthy snacks or how to make them.