Posted on November 22nd, 2016 by Manuela Hipkins
by Darya Mead,
Well Kiddo's Chief editor and Triporati Managing Producer 
I recently returned from what I would call a mission, helping my cousin– a single mother of twin 11 month olds– while she covered a UN Climate Change Conference in Bangkok, Thailand.  Anxious before the trip, I wondered if my body, stamina and decades old skills would hold up. I did, however, have no doubt that this was a mission I wanted to accept; it felt right deep in my soul.
Having breastfed both my boys well into toddler-hood, and blessed with two skimpy eaters (making up for it now as teenagers) I was unprepared for the adventure of keeping two robust 11-month olds fed and hydrated in an unfamiliar land. My cousin brought a number of snacks and containers of baby food, but as both babies drink a lot of formula, I had to quickly get up to speed on their nourishment agenda.
We flew Asiana Airlines, a South Korean carrier and was impressed with all they did for us. We had bassinets on every flight and pre-ordered baby meals that were more than they could eat. The flight staff were incredibly helpful, but definitely more aloof than most American or European airlines.
Once in Bangkok, the hotel was our home base and the first day we set out for a shopping mall and giant supermarket to buy supplies. Diapers, formula, wipes, baby food, water, dishwashing liquid and mild detergent–this in an of itself was enlightening given the language challenges. Conversion of pounds to kilos for the diapers, translation of the formula types to ensure the correct match and where to find yellow bananas; there were 20 different types but they were all green!
Once back in our room we set up shop. Thanks to a little fridge we were able to keep things fresh. The babies were good eaters, putting away much more than my finicky 'breast only' boys. Jet lag meant middle of the night meals of baby bananas and cereal, perhaps a container of food or yogurt. The hotel breakfast was a smorgasbord of European and Asian fare. Packets of rice cereal we had bought were mixed with an egg yolk from the fried eggs on the buffet,  and plain yogurt. The twins wolfed down watermelon, papaya and other tropical fruit. I surreptitiously squirreled away mini croissants for them to gnaw on and hold, even though mom didn't really want them to have them.
Clean water for bottles was a chore. We had plenty of bottled water but pretty quickly felt comfortable with the hotel water to clean the bottles. I always carried crackers and fruit to offer them and the new fangled baby packets were easy to feed them directly through the spout. I was incredibly careful with my own intake, fearing a food poisoning episode on duty, and luckily neither child had any issues. They loved avocado, banana and watermelon the most, which was great to keep cool since it was so hot. I also let them have little drops of water when we were out and about, to make sure they were always well hydrated.
We visited many temples, a couple floating markets and took two boat rides, navigating the chaotic and polluted Bangkok metropolis. With little prep and absolutely no presumption of a vacation, each day when I was solo with the dynamic duo– I googled a temple in a 10-block radius. The double stroller trek, navigating insane traffic, menacing stray dogs and drenching heat and humidity, felt Herculean. When we made it, an oasis, where the twins could have crawling time in the peaceful and often cool marble temples, awaited. The babies were stars and folks flocked to our orbit like paparazzi. Soldiers stopped traffic and monks helped us cross chaotic streets. Taxi drivers, locals and hotel staff helped juggle the babies. One soldier/ monk team guided me to a secret area to change an explosive diaper, when it was clear it was NOT ok to do so under the shade of a magnificent and sacred Banyan tree.
A  three day trip to the coast was much needed and eating breakfast by the beach was glorious. Highchairs at both locales were somewhat useless as there was no way to strap in the wiggly kiddos, so if you take a crazy trip like this with little ones, it might be good to bring a clip on seat.
Friends kept texting and emailing me asking if I was having amazing food. I have to say apart from the divine breakfast buffets, not really, I was too busy. I did enjoy a few yummy roast chickens at markets and luscious coconut milk right from the nut, but the feast was more for the eyes this time.
I had never been to Asia before and it certainly was a unique way to visit this magnificent country, particularly because twins– one of each gender– are considered to be tremendously fortuitous in Buddhist culture. The entire magical adventure was heightened because of the recent passing of the Thai King and the devotion to him from his people. It was a remarkable time to be there.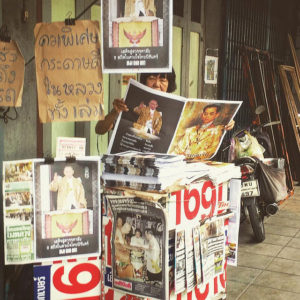 I returned home feeling younger, fitter, and more ebullient than I had in a long time. I fell deeply in love with both the Thai culture and these babies. It's been a few weeks and the doldrums that have now set in post election, highlight the lightness and positive mojo I got from such an unexpected undertaking. The details of life can be so distracting and soul sucking. Sometimes, having one compelling reason to keep moving forward can serve to focus energy and purpose.  Here I thought I was just doing a good deed and I got so much out of the entire adventure.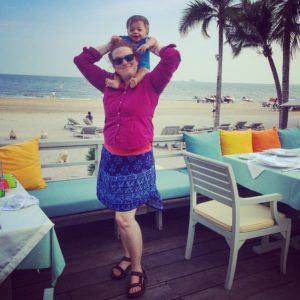 My cousin has a few potential conferences abroad, before the babies are two and she'd have to pay for their plane tickets. I offered to do it one more time… maybe to Chile?