Posted on October 31st, 2016 by Manuela Hipkins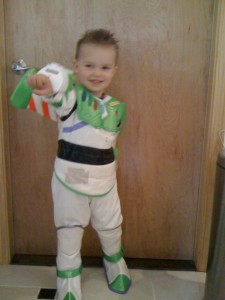 'Wellkiddo' Alexander, all excited about Halloween!
When you become a parent in a junk-food culture but you have a traditional diets perspective, holidays can present a bit of a dilemma. One of these is Halloween–where it is a matter of great fun, excitement, and cultural bonding to dress up in costume and go door-to-door saying "trick or treat." Grown-ups are delighted to fill your child's bag full of corporate-manufactured, corn syrup-sweetened, individually-wrapped, artificially-colored and chemically-flavored packets of "candy," and the children are delighted to receive it.
I was once that child! I loved Halloween–one of the few experiences of what Barbara Ehrenreich calls "collective joy" my culture offered me. These experiences were abundant in many traditional cultures where an annual cycle of celebrations drew wide participation from every segment of society. Alas, modern America offers comparatively few of these, as Ehrenreich laments in her book, Dancing in the Streets: A History of Collective Joy.
So I don't want my child to miss out on this rare and precious part of our communal life. But I don't want him to eat that candy either. Frankly, even as a child I experienced the candy as a burden. It made me sick every Halloween evening as I ate too much of it, and then I was stuck with a bag of stuff I mostly disliked but felt obliged to enjoy.
Imagine my excitement, then, to learn about the Switch Witch! If, after selecting a couple of choice candies from the trick-or-treat bag, you hang that bag in a specially-chosen location (for our son, it is the persimmon tree outside our back door) you can expect the Switch Witch to come, take away the candy, and leave a preferable treat or present in its place!