Posted on October 20th, 2016 by Manuela Hipkins
Seven Ways to Get Probiotics 
into Your (and your kids') Meals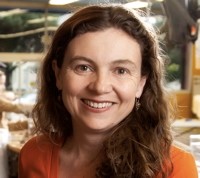 Even just a spoonful of fermented vegetables or a small glass of a cultured beverage every day will help you build a healthy gut microbiota! Here are some ideas to help you make that a part of your routines. 
Add fermented vegetables to salads. If you're one of those people who doesn't know "how" cultured vegetables fit into your meal, try tossing them with your salads — whether greens, pasta, potato or beans. Sauerkraut brine can also be whisked into any dressing, and can sometimes be substituted for salt and vinegar in a favorite recipe.
Put something fermented in your (kid's) lunchbox. Even if you don't think to eat fermented vegetables at home, putting them in a lunchbox almost guarantees you'll get their probiotic benefits on a daily basis. A piece of pickle, or a mini-container of kraut,  are more exciting to open up mid-day than just a piece of raw crudité.
Add brine to your broth. Our Bone Broths are unsalted, and a great way to season them is to add something fermented–Sauerkraut Brine, Cabbage Tonic, or any of our cultured vegetable offerings–to the warm broth. In order to preserve the enzymes and probiotic qualities, let the broth cool down a bit after bringing it to a boil before adding the cultured item. To confirm that the temperature won't "kill" your enzymes, stick a (clean) finger in the broth. If you can hold it there for 5 seconds then it's cool enough to preserve the enzymes.
Make "Pigs in Pillows." When I was pregnant with my son, this was what I craved. Now that he's 7,  it's one of his favorite dinners. Coincidence? Make some mashed potatoes. Cook some hot dogs (Try the Let's Be Frank grassfed wieners we carry!) Slice the hotdogs into bite-sized pieces. Put the mashed potatoes on a plate or in a shallow bowl and allow to cool until they are just warm. Then add a big dollop of Classic Kraut and the hot dog slices. Mix thoroughly, then neaten it up a bit. Serve as is, or with a dollop of sour cream on top!
Make "putting out the kraut" part of setting the table. If you always have a jar of kraut on the table (opened, with a clean fork stuck into it) you are more likely to dollop some on your plate and eat it with… whatever! That's what we do here at lunchtime. Just set out kraut as a matter of course and you'll be surprised how many things it goes with… Just about everything! If your child is old enough to be setting the table, make this part of the chore.
Add a dollop of our Yogurt Cream or Piima Cream to make a soup or stew a little creamy, on top of a bowl of chili, to enrich a salad dressing or dip, or mix with honey or fruit for dessert.
Drink kombucha, kefir, jun, kvass or any raw probiotic beverage. Our lacto-fermented beverages are full of living beneficial cultures and come in a range of flavors, from sweet and fruity to aromatic to slightly salty to downright briny.
Saturday in the Kitchen: 
Tour & Traditional Diets Class
Saturday, October 29th, 9am-3pm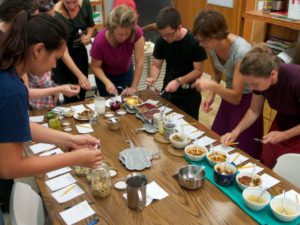 Come enjoy a Saturday at Three Stone Hearth!
Join Co-Founder, Jessica Prentice for a behind-the-scenes look at our Community-Supported Kitchen.  Take a tour, shop at our store, work in the kitchen with our staff, and learn about The Nutritional Wisdom of Traditional Diets and how we incorporate this wisdom into the products made each week.  You may purchase a ticket for the entire day or just the tour and class.  All portions of the day are sold separately.
9:00am-10:15am: Introduction & Tour of the Kitchen
10:15am-1:00pm: Hands-on in the Kitchen and enjoy a nutrient-dense lunch with our staff
1pm-3pm: The Nutritional Wisdom of Traditional Diets class
This workshop will take place at Three Stone Hearth, 1581 University Avenue. Cost of the entire day is $25.
To register, please visit our Classes, Education, and Outreach Menu.