Posted on February 16th, 2016 by Manuela Hipkins
by Well Kiddos' Chief editor: Darya Mead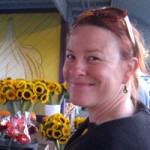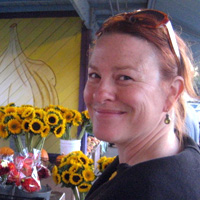 Superbowl 2016 is over and we can all go back to regularly scheduled eating. I am not a football fan and this year with the big game in my neighborhood, I wanted to avoid the whole dismal event, save Beyonce's bold halftime statement. My husband and boys were moderately interested, so in an effort to not be a Debbie Downer (between the concussion revelations, my general distaste for the NFL and entire testosterone fueled sport and the local controversies) I decided to try a Superbowl party favorite with a twist.  I thought– at the very least– they would be visually appealing and potentially tempting to the meat loving men in my life. Easy to prepare ( and if you squint they almost do look like chicken wings) the crispy outsides and tender insides really was a hit. I made BBQ pork and a healthy red cabbage slaw with lime and cilantro to accompany the little wings. I will make this again as a side dish and this time I will definitely make more!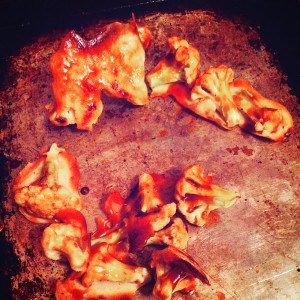 Ingredients:
2 heads cauliflower, cut into bite-size pieces
2tb of butter
olive oil
3/4 cup of flour
1 cup of water
1/3 tsp garlic powder
slat and black pepper
1/2 cup hot pepper sauce
1tsp honey
Preheat oven to 450 degrees F (230 degrees C). Lightly grease a baking sheet.
Mix flour, water, garlic powder, salt, and pepper together in a bowl using a whisk until batter is smooth and somewhat runny. Add cauliflower to batter and mix until cauliflower is coated; spread onto the baking sheet.
Bake in the preheated oven until lightly browned, 20 to 25 minutes, you can turn once if you like
Melt butter in a saucepan over medium heat. Remove saucepan from heat and stir hot pepper sauce and honey into butter until smooth. Brush hot sauce mixture over each cauliflower piece, repeating brushing until all the hot sauce mixture is used.
Bake in the oven until cauliflower is browned, about 10 minutes. Remove baking sheet from oven and allow the cauliflower to cool 10 to 15 minutes.
ENJOY!